Back to all posts
Posted on
YEAR END STUDENTS AWARDS ASSEMBLY/LAST DAY OF SCHOOL - JUNE 27TH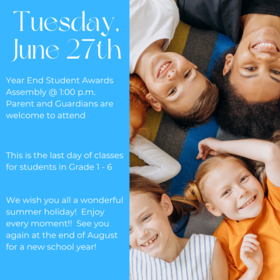 Year End Student Awards Assembly will be on Tuesday, June 27th at 1:00 pm.  Parents and Guardians are welcome to attend.
This is the last day of classes for students in Grade 1 - 6.
We wish you all a wonderful summer holiday.  Enjoy every moment.  See you again at the end of August for a new school year.