Indigenous Liaison
Smudging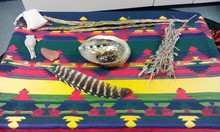 Smudging is available from 8:35-9:00 am and throughout the day whenever anyone needs it to help them through any difficulties they may be having. The burning of various medicine plants to make a smudge or cleansing smoke is used by many North American Indigenous peoples and is open to all those who want to learn. It is a ritual cleansing. As the smoke rises, our prayers rise to the Spirit World where the Grandfathers, Grandmothers and our Creator reside. Negative energy, feelings, and emotions are lifted away. It is also used for healing of mind, body and spirit, as well as balancing energies. Our Elders teach us that all ceremonies must be entered into or begun with good intent. So many of us use the smudge as a symbolic or ritual cleansing of mind, body, spirit and emotion. The smell of the burning medicines stimulates our brains to produce beta-endorphins, which are part of the normal healing process of our bodies. 
Dancing
Every Tuesday at lunch hour, students are invited to come learn how to pow wow dance from Maskwacis Pow-Wow Dance Instructor Karlene Cutknife. Many students partake in this weekly learning and then teach others how to do the various types of dance. A Pow wow is a celebration of life and community gathering; one of the most important components of a pow wow are the dancers who dance around the circle to the beat of the drum, and display their style of dance. There are several different dance styles, some for male dancers and others for female dancers. The male dance styles are: Fancy, Grass, Prairie Chicken, and Traditional (some variations between Northern and Southern). The female dance styles are: Fancy, Jingle, and Traditional (again some variations between Northern and Southern). The strenuous dances like fancy dance, fancy shawl, and grass dance, like any aerobic exercise, strengthen cardiovascular fitness. Dancers can incorporate specific fitness-enhancing techniques into their practice following basic strength-training moves. Perhaps the true power of Indigenous Pow-wow dance as fitness, however, lies not in its specific physical movements but more in its holistic nature. 
Drumming and Singing
Twice a month Kevin Littlechild comes and teaches the boys the respect of the drum and singing.  Kevin works very well with the boys and great relationships are made from this.  We have students from grades 3-8 in our drum group.  Some of which had the honor of drumming at the Treaty 6 Flag raising at Division Office earlier this year.  Since the beginning of civilization, Drums have been one of the main universal signals for calling people together.  The drums are humanity's common pulse.  In other words, Drums do not know about race, racism, jealousy, hate, resentment, greed, language, genders, gender choice, human diversity.  None of that matters, what matters is the sound of one heart beating.  It is a proven fact that drumming circles improve productivity and teamwork while reducing absenteeism; it dramatically reduces stress through a synchronicity of group 'right' action.  Disputes are healed, reconnections are made. 
Beading
There's something soothing and therapeutic about making art. The way it relaxes you and gets your mind off your troubles. Beading decreases illness-related stress, provides positive coping strategies, restores a sense of self in those coping with serious illness, improves fine motor, visual perceptual, and cognitive skills, lowers blood pressure and increases energy levels. Beading is a form of therapy that starts with just one bead and its unique beauty; the process of creating and expressing can elevate you to a higher sense of consciousness. Beading can transform you to a place of healing, peace and creativity. Beading gives us a way to be creative, learn new techniques, and make something that matches our favorite colors and style. It can also give us a sense of accomplishment, and make us feel happier and more self-confident when we receive compliments on our beadwork. Beading can also be beneficial for the young and old! Kids can improve their fine motor skills with increased finger strength and coordination, math skills with counting and making patterns, visual motor skills with hand-eye coordination, and an extended attention span. Just be sure kids are well supervised with age-appropriate materials. The elderly can also benefit from beading in many of the same ways. For them, it keeps their mind active and stimulated, and also exercises their fine motor skills. When done in a group setting, it can be a great way for them to be around other people, be creative, share stories, help each other out, and show off their work.
Grade 6 Leadership Group
Some of our grade 6's have signed up to be our leaders of tomorrow in the community.  Partnered with Wetaskiwin District and Community Services, the grade 6's visit this organization once a month in the afternoon and are learning about individuals affected by disabilities.  Through this partnership we are creating knowledge and understanding, friendships, career paths and having lots of fun!  In March, the students read a variety of books to their new peers, shared snacks and lots of laughs!
Healthy Living
We are so excited that we are incorporating gardening into our curriculum.  We are growing much more than fruits and vegetables; we're growing students' math, science, language arts, and social studies skills.  We're also promoting student responsibility and healthful eating.  Our garden isn't an ordinary garden with soil; it's Tower Garden®.  This earth-friendly approach to gardening uses much less water and space than soil gardens. Plus we can grow our plants year-round.  We are very lucky to have not one but two tower gardens in the cultural classroom this year; together with the students we cleaned the units before planting the seeds, filling up the water tanks, and checking the ph levels every week.  A big thank you to Jennifer Shuffler for helping us to get the units up and running as well as maintaining them.  The students regularly come to checkup on the plants making sure they have enough water in the tanks; they also come to admire them, smell them, and ask questions.  Our goal is to grow enough peppers, sage, cucumber, broccoli, tomatoes, beans and lettuce to have a feast at the end of the school year.  The students are getting first hand fun and experiences with the tower garden and get to eat what they reap!
Boy's Group: Walking Together
The Circle encompasses all of creation, living and non-living. It reminds us of the connection we have to all of our relations, and the potential for ceremony and reciprocity in every action. It reminds us of cycles in nature, natural cycles of iskwewak and mother earth, and the life cycle of all human beings, their relations, their dreaming...The pipe bowl, the tipi, clockwise movement in ceremony, the sweat lodge, and the sundance all form circles. Relationship, reciprocity, non-linear ways of thinking does too. In Nehiyak teachings the circle has four directions and all of life's teachings can be applied to this symbol. It is invoked to represent all of creation and teachings about it, all of which are sacred opportunities to walk in harmony with all our relations.  
Centennial Peacemakers
Centennial Peacemakers motto is 'Be the Change You Want to See'.  A group of grade 5 and 6 students have been working hard at learning conflict resolution skills.  They share these skills with everyone and are continually growing.  At recess time, teams go out at recess and work towards mentoring younger students to make good choices and have fun!
Cree (Nehiyaw) Language & Culture
Aboriginal culture and languages are closely connected and sometimes viewed as inseparable. Each language reflects the unique way Aboriginal peoples view and relate to the world. Each carries with it an unspoken network of cultural values which are a major force in the shaping of each persons self-awareness and identity. Words in a language, the ideas, and feelings they represent, and the way they are spoken allow people to fully express their traditional beliefs and ways of interacting with each other. These values help generate and maintain an individuals level of comfort and self- assurance, and consequently success in life. In the normal course of event these values are absorbed along with ones mother tongue in the early stages of life. For most young Aboriginals today, culture and language have in fact been separated. As a result most of these young people are trying to walk in two worlds with only one language. (Henze & Vanett, 1993)
Ka-ki-kiskêyihtêtan ôma, namoya kinwês maka aciyowês pohko ôma ôta ka-hayayak wasêtam askihk, êkwa ka-kakwêy miskêtan kiskêyihtamowin, iyinîsiwin, kistêyitowin, mina nânisitotatowin kakiya ayisiniwak, êkosi ôma kakiya ka-wahkotowak.
Realize that we, as human beings, have been put on this earth for only a short time and that we must use this time to gain wisdom, knowledge, respect and understanding for all human beings, since we are all relatives. – Cree proverb